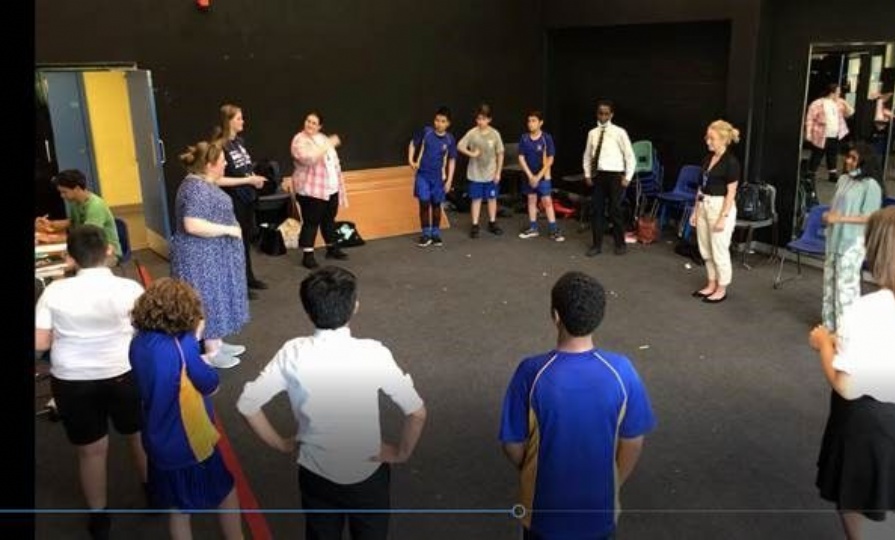 Drama is integral to life at Rutlish School, and students are provided with unique opportunities to develop their creatively and talent!
During the summer term, students have taken part in a series of dynamic and interactive theatrical workshops, led by professionals from the famous Attic Theatre Company. Students were taught the skills of devising, characterisation and role-play in order to support their mental health, build communication skills, and promote self-confidence. This has been a hugely successful project with RR6 students interacting with KS3 students in role as facilitators.
The Year 7 cohort have enjoyed reading and performing extracts from the play "The 39 Steps" by Patrick Barlow. Additionally, some of our Year 7 students have been working on their Bugsy Malone production. The cast have been chosen and lines are being learnt.
Harold Pinter's The Birthday Party" has been the text for Year 8, who have shown a real depth of understanding of the social and historical context of the play leading to some excellent group work and creative exploration of key scenes.
Not to be outdone, the Year 9's immersed themselves in ''Too Much Punch for Judy'' by Mark Wheeler. Students delivered their lines with clarity and empathy for the lead character Judy and her family. A truly poignant theatrical play which elicited excellent verbal, practical and written responses!
Our Year 10 students have completed their first year studying either Drama GCSE or Performing Arts BTEC where teachers have tried to minimise the disruption from Covid19 and final grades have been submitted for Year 11. We look forward to result day in August.
You can find out more about Drama at Rutlish please visit other pages on our website: Subject information and What our students say and for more photographs of the workshops with the Attic Theatre Company.