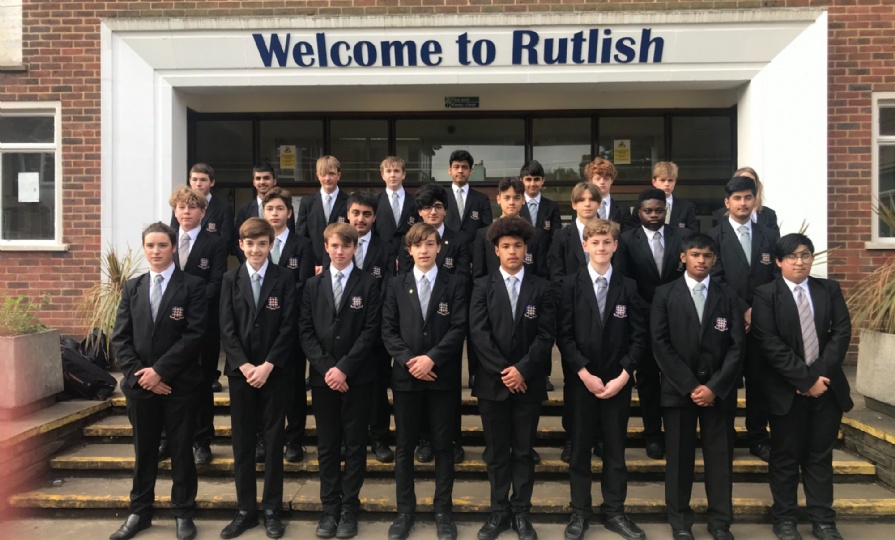 At Rutlish School students have a wide variety of interesting leadership opportunities which we believe are important for developing self-confidence and skills, such as negotiation and communication. Student leaders are expected to work with their fellow students as well as the staff team.
These opportunities include School Council Representative, Form Representatives and Anti-Bullying Ambassadors from all year groups. In Year 9 we also have Department Ambassadors who work with Heads of Department supporting clubs and other extra-curricular activities.
The Junior Leadership Team have wide and varied opportunities and include Head Boy, House Ambassadors and Charity Ambassadors. They go through a formal application and selection process to start their term of office during Year 10 when Year 11 move on to concentrate on their final studies for GCSEs.
Opportunities continue in RR6 with RR6 Ambassadors who take responsibility for sport, arts and charity, and The Student Movement who exist to tackle societal inequality and work towards an inclusive future free form discrimination.
We have students who are members of the Merton Youth Parliament who get involve in:
Evaluating how well services meet the needs of young people.
Raising concerns and suggestions of young people in Merton.
Working with the COVID Community Champions who educate young people on risk around COVID and COVID vaccinations.
New for 2021
2021 brings exciting new leadership opportunities at Rutlish.
Students from Year 9 to Year 13 can apply to become Wellbeing Ambassadors who will be responsible for:
Peer mentoring
Signposting students in school to support available for mental health and wellbeing
Liaising with Place2Be, who support our students in school
Challenging the stigma around mental health
Students in Year 12 and 10 can take on the role of House and Vice house Captain to champion our successful House ethos and competition. They will create and deliver events and inspire participation across the school.
The student leadership opportunities are integral to the success of our school. They helps to prepare students for opportunities, responsibilities and experiences later in life. These opportunities support our visions for our students to become healthy, happy, successful young adults; knowledgeable, kind, aware, confident, capable and skilful members of society.
My philosophy on leadership has always been 'be present for the people you lead'. And remember that your role as a student leader is just a different position, you're not the 'massa' (administrative centre).
ABS, Previous Headboy
Leadership is turning what is seemingly conflict into a compromise – and moving forward with your team – not having them carry you. When in strife, you need to turn to dependable people. The variety and mixture of different cognition can elevate a simple idea into different dimension of creativity perhaps not originally convinced. Each voice is unique and Those you disagree with may have the most revolutionary ideas. A team is there to bring out the best in everyone.
HA, Deputy Headboy
The Merton Youth Parliament has been one of the most eventful times of my life and some of the best. Since starting all the way back in 2018 it has helped me become more confident, be a better public speaker and create new relationships. It has been such fun working with everyone and working with the team, getting our voices across, arguably the most important voices, and getting the changes we want seen in the local community. I haven't regretted it one bit!
Vinnie